[vc_section content_placement="top" scrollreveal_type="fade_in" scrollreveal_elements="text_el"][vc_row full_width="stretch_row_content_no_spaces" content_placement="middle" text_align="center-ms"][vc_column][vc_column_text]
Many officers and enlisted from all branches of the military (including Coast Guard and Space Force), have been either permanently assigned or sent TDY to Goodfellow AFB in West Texas. If you were one of them, I hope you will enjoy a look into the past and a look at the present.
BACKGROUND – Over the years, my husband and I have attended Misawa AB reunions* around the country and folks know that we live in San Angelo.  So, they will ask if San Angelo has grown or has "Goodbuddy" changed much.  So, when the Base Chapel was torn down, that was when I really felt the urge to capture as much of the history of the base (and San Angelo) as I could.  And at the same time answer the questions about San Angelo and the base.
People arriving now have no idea how the base as evolved over the years.  I even had no idea of the changes.  I never knew the Base Library was near the old fire station or that the Base Theater use to be right next to the old Base Chapel.  When I arrived in 1973 for 202 training, both were located where they are now.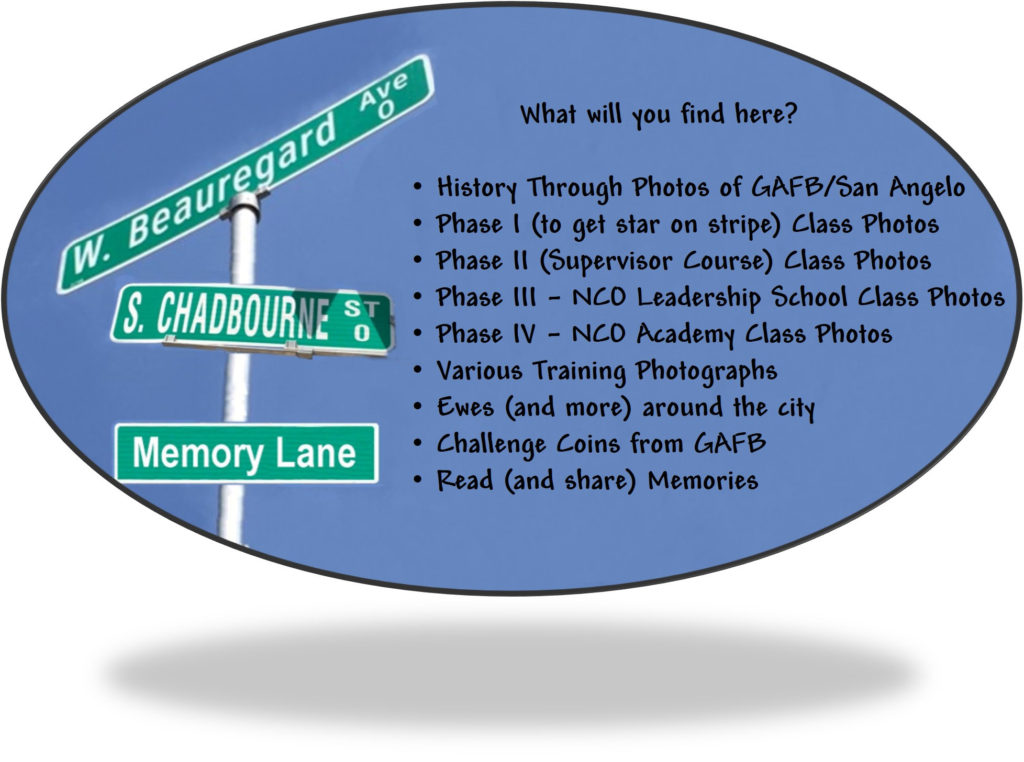 Please click on the following link to see a short YouTube video on Goodfellow AFB Armed Forces Day 2022
On 24 December 2019, we received an email from Heritage Chapter, Freedom Through Vigilance Association – For those who maintain a mailing list or web site please give widest dissemination.
As many of you are aware the web site to order memorial pavers to honor your service or that of your loved ones is active.
Many have already ordered. You may order on-line or via mail. Payment can be made through PayPal or by check.
The plaza will be located on Goodfellow AFB adjacent to the EC-47 aircraft. Full information and options for ordering paver(s) is at:

_______________________________
Please check out the following link: http://www.vietnam50thcpp.com
Thank you to Tom Nurre, CMSgt (R) for sharing this link with me.

_______________________________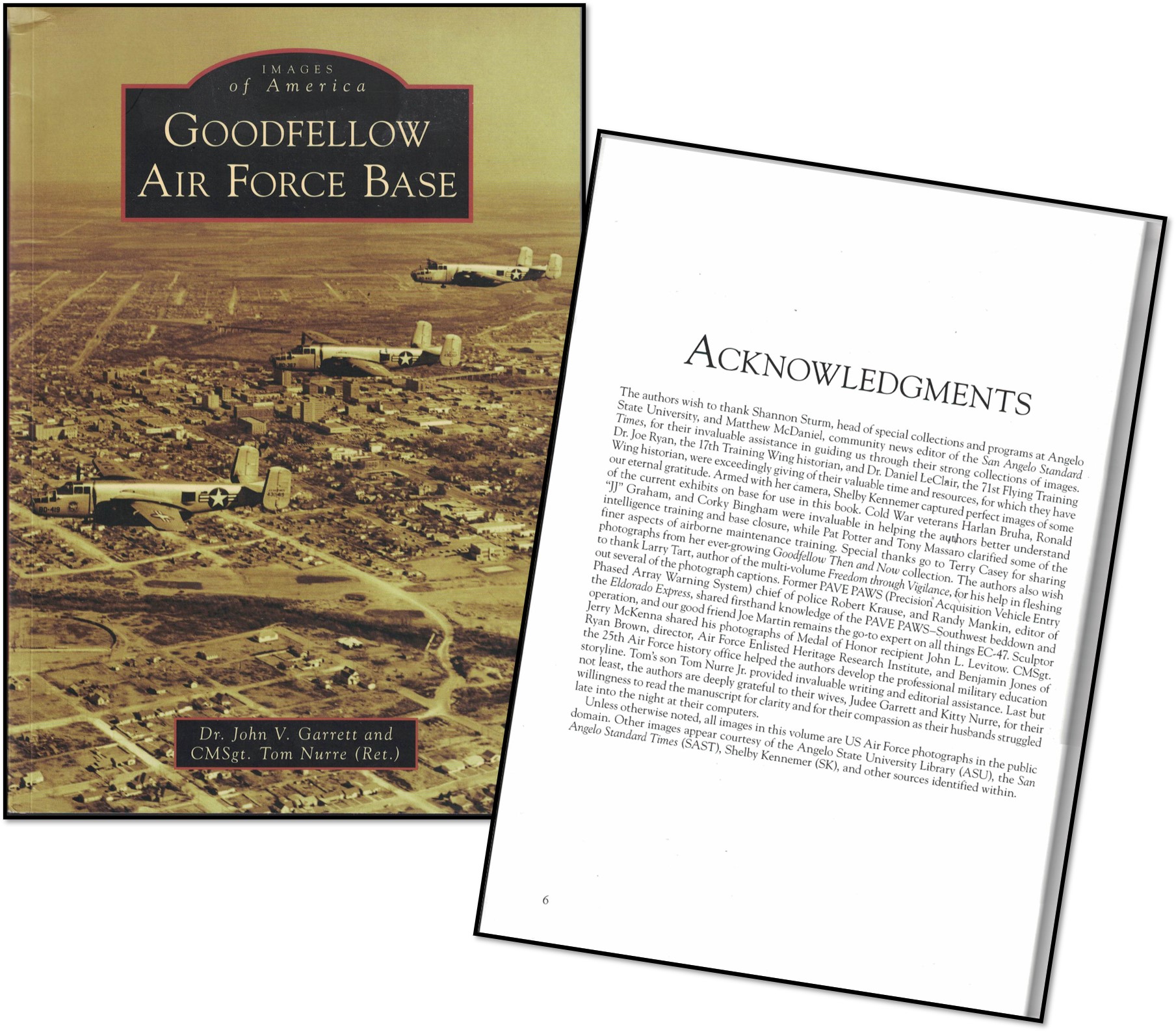 I was surprised that my name is mentioned in the Acknowledgements.
The book (seen above) is for sale at the publisher:
It is also online at Amazon.com:
Those interested may also send $20 for an autographed copy to:
Tom Nurre
4213 Green Meadow Drive
San Angelo, TX 76904
(325) 949-7188
_______________________________
Last Updated:  21 August 2023
* In Base Photos/Base Commanders – added Colonel Angelina Maguinness' official photograph as new 17th Training Wing Commander
This website was completely redesigned during the summer of 2018.  I hope that you enjoy the "new" look.  You may have seen my business card with the design of the previous template:

When I redesigned the site, I tried to keep the major topics the same.
There are many photographs I wish I had gotten such as the Dixie Night Club on north Bell Street and Show Biz Pizza; K-Mart before it became H-E-B; more photos of Neff's Park; the water park; etc.  And photos of what Knickerbocker looked like back in the early 1970's (once you drove past the Stadium going to the airport); and the old entrance of the airport.  In other words, I sure wish I would have known that I was going to create this website – lots of changes have taken place in our great city.
If you have a photograph you would like to see displayed on this website, please select "Contact Us".  Or, if you have a "war story" or two to share about your time at Goodbuddy or in the surrounding San Angelo area, I would love to hear from you.
*Oh, if you (or anyone you might know) were ever stationed at Misawa AB, Japan, and do NOT know about the Misawa Project website, please let me know and I will hook you/them up with the administrator.  Our annual reunions are held at different locations around the US.
[/vc_column_text][/vc_column][/vc_row][/vc_section][vc_section scrollreveal_type="fade_in" scrollreveal_elements="items" scrollreveal_sequences_delay="200″][vc_row][vc_column][vc_column_text]

The Secret to Happiness is a Good Sense of Humor and a Bad Memory.                                                                                                                          Arthur Unknown
I WOULD LIKE TO THANK:
The Base Historian for allowing the use of the official USAF Government photos.
The Goodfellow AFB Public Affairs office for approving this endeavor.
Kurt Hoffmaster, and now GoDaddy, for hosting this website.
To Jim Bohn for sharing with me the top photograph of my Header Image.
To digmypics for being able to provide me with photographs from oversized negatives.  Click on this sentence for more info.
Google Maps, Google Earth, and Street View for allowing me to screen capture views around the base and San Angelo area to help in explaining where places of interest are located.
FINALLY – A shout out to LOGOMAKR.COM for helping me to create a logo for my home page toolbar.[/vc_column_text][/vc_column][/vc_row][/vc_section][vc_row][vc_column][/vc_column][/vc_row]